Production of each machine in below
Semi-automatic production line,
Water treatment → EDI,ultraviolet(alternative)→ water tank → Ozone generator,pump(alternative) → homogenizer emulsifier → material tank → semi-automatic filling machine → semi-automatic capping machine → semi-automatic labeling machine → ink printer → conveyor(alternative)
Fully automatic production line,
Water treatment → EDI,ultraviolet(alternative) → water tank → Ozone generator,pump(alternative) → homogenizer emulsifier → material tank → automatic filling and capping machine → automatic labeling machine → ink printer

500L stainless steel mixing equipment cosmetic soap cream vacuum emulsifying homogenizer mixer machine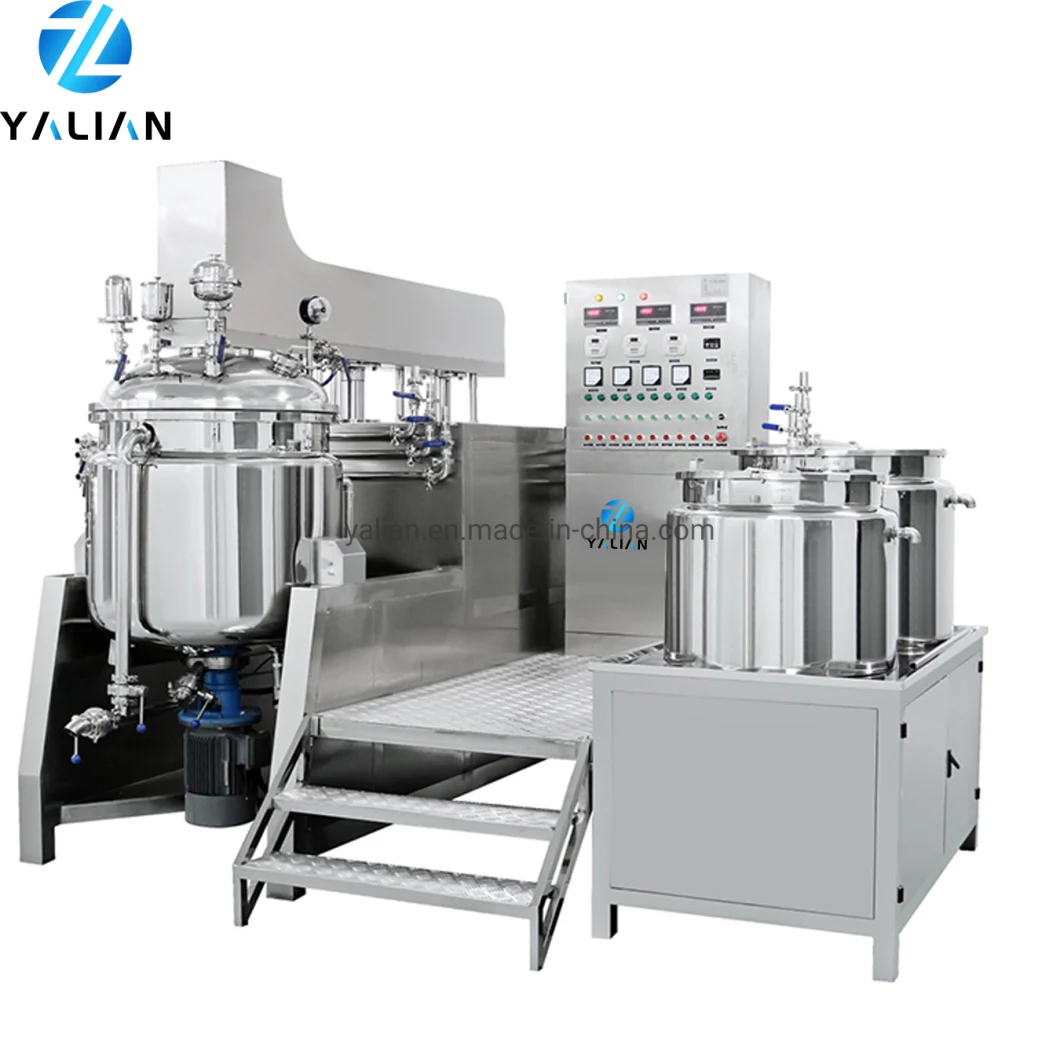 Hydraulic Lifting and Tilting System are used for material discharge and cleaning, easy and convenient operation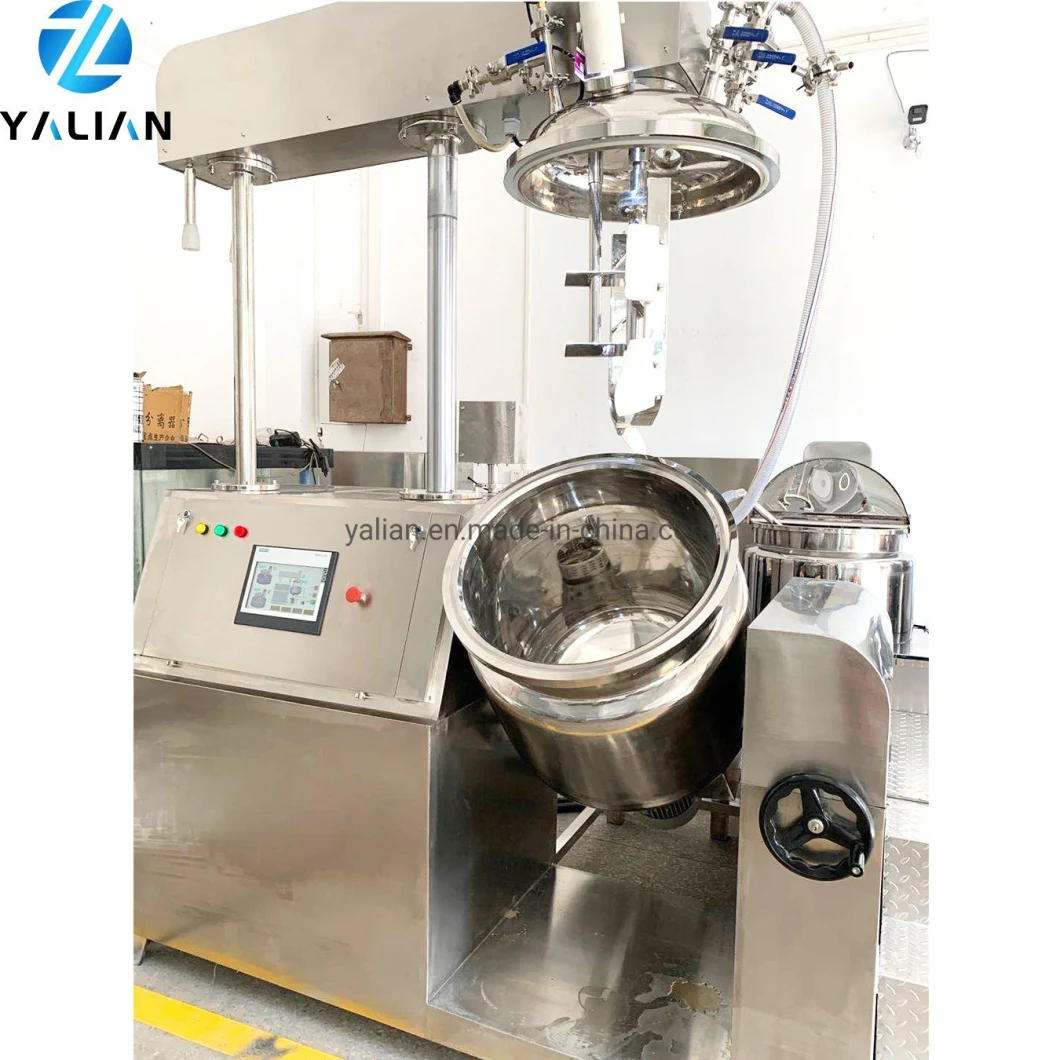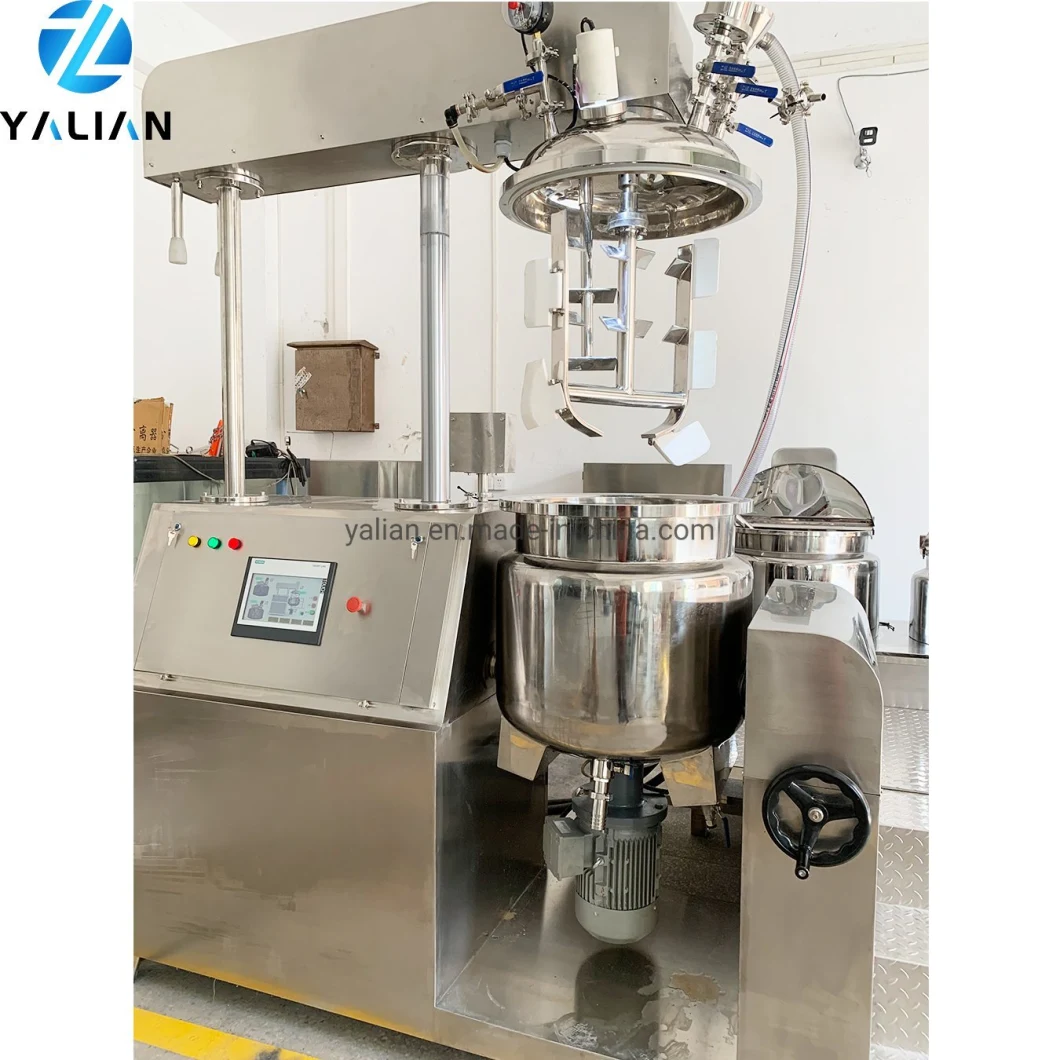 Electric Cabinet
SUS304 control panel: button / PLC touch screen (option)
Ampere meter, Voltmeter
Real-time Temperature display
Mixing system control (frequency control)
Vacuum system control
Hydraulic lifting system control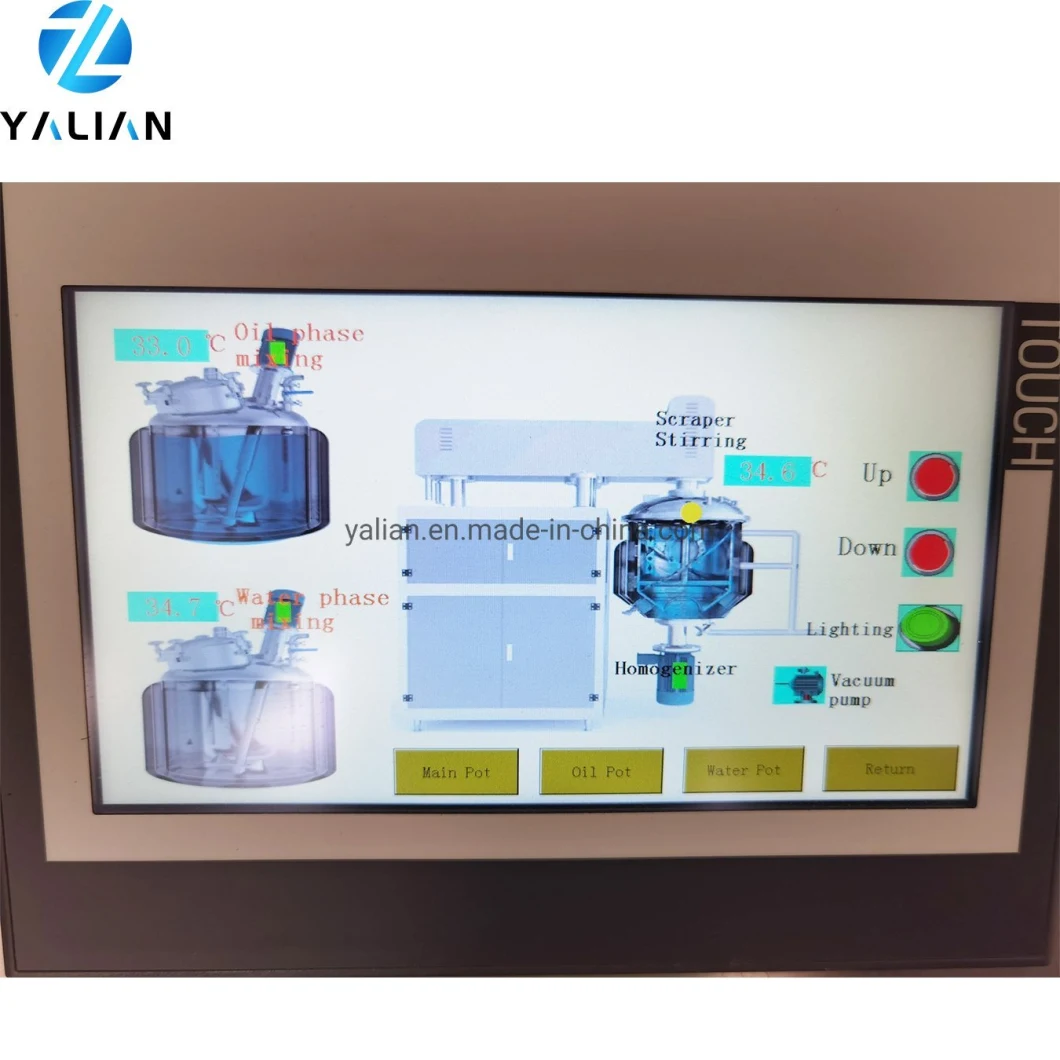 Water and Oil Pot
Machine equipped A set of water and oil pot
Water pot capacity: 10-5000l, Oil pot capacity: 10-5000l
Power: 0.37-22kw, Siemens motor, Speed: 1440RPM
Electric heating by Water or Conduction Oil
Mixing: High shearing DISPERSER plates with baffle on wall
Half open hinged lid for easy operation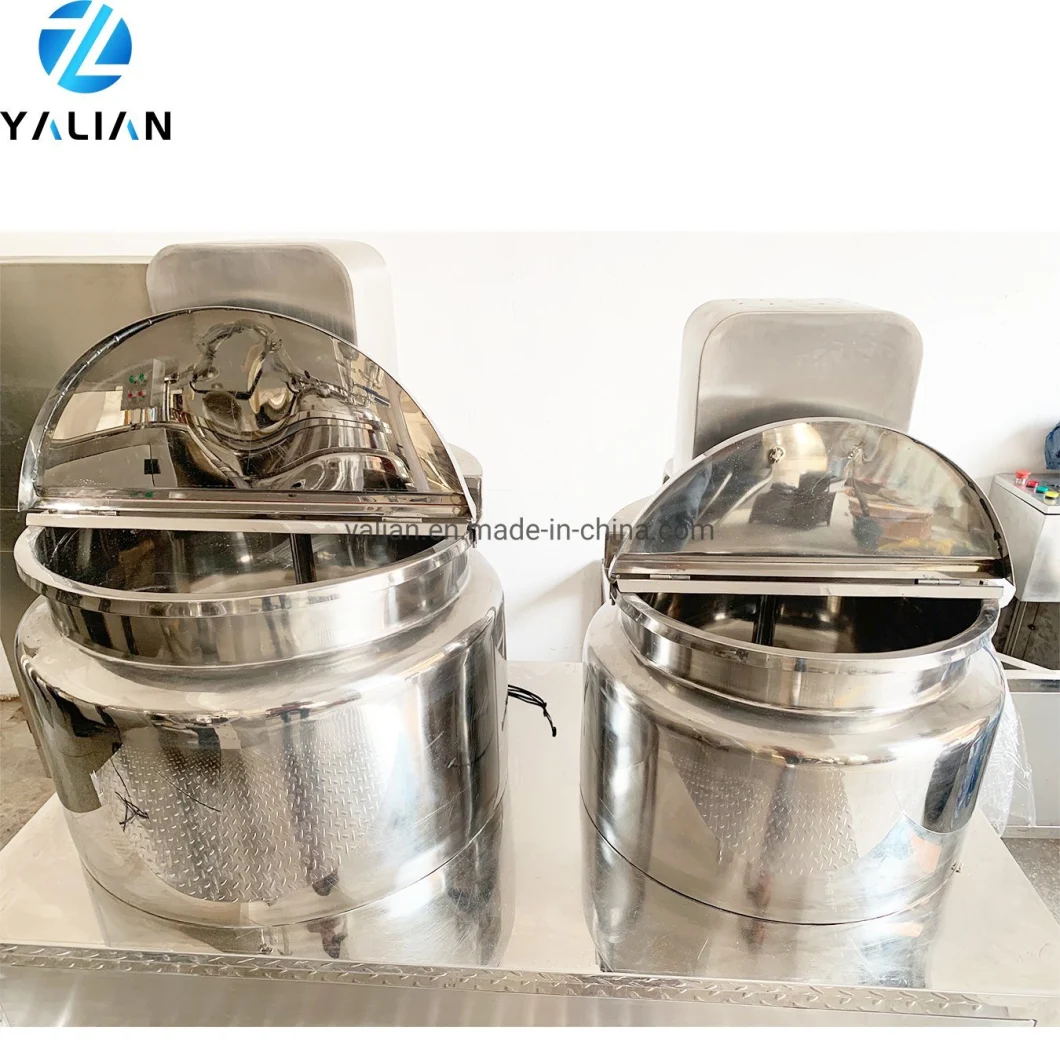 Frame Wall Scrapper Mixer
SUS316L Wall scrapper mixerPTFE scraper
Fixed propeller, 45degree blades on opposite angles to make sure mixture complete
Siemens motor drive, 0-65rpm with variable speed controlTWO WAYS wall scrapper mixer
HELIX scrape mixer(OPTION)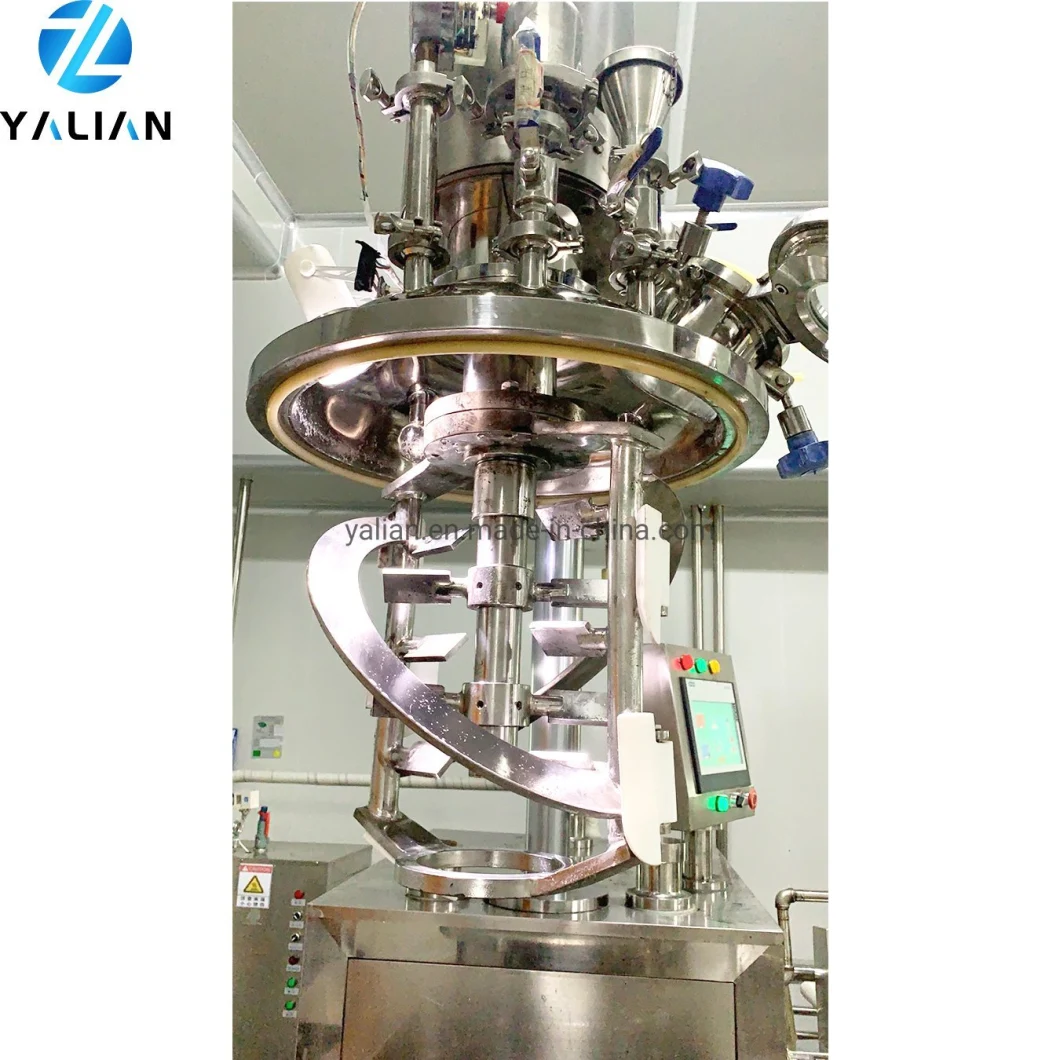 Lid Parts
Material suction inletVacuum presssure gauge
Vacuum port, Vent filter
Positive pressure inlet
Perfume hopper
CIP spray ball, LED Light
Sight window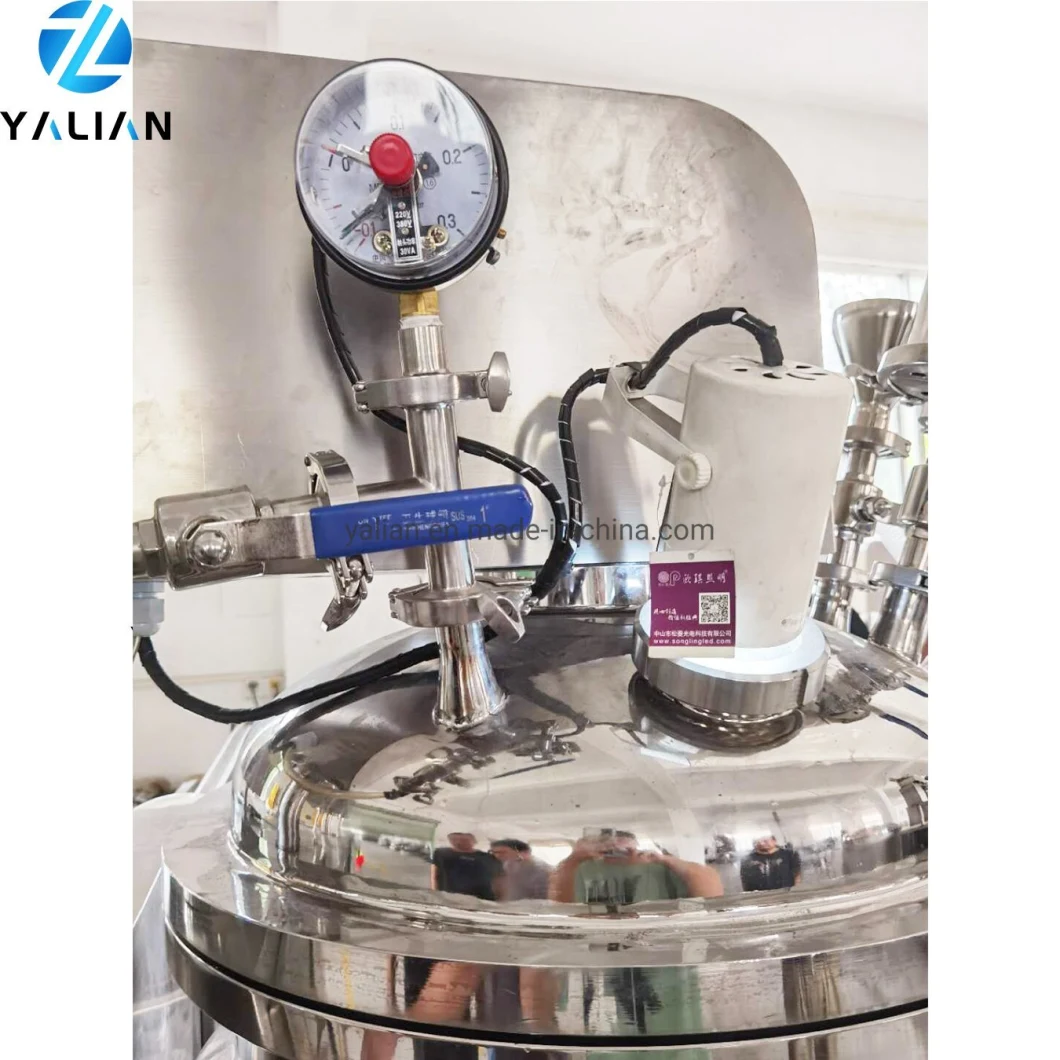 Why the tank with homogenizer is best ?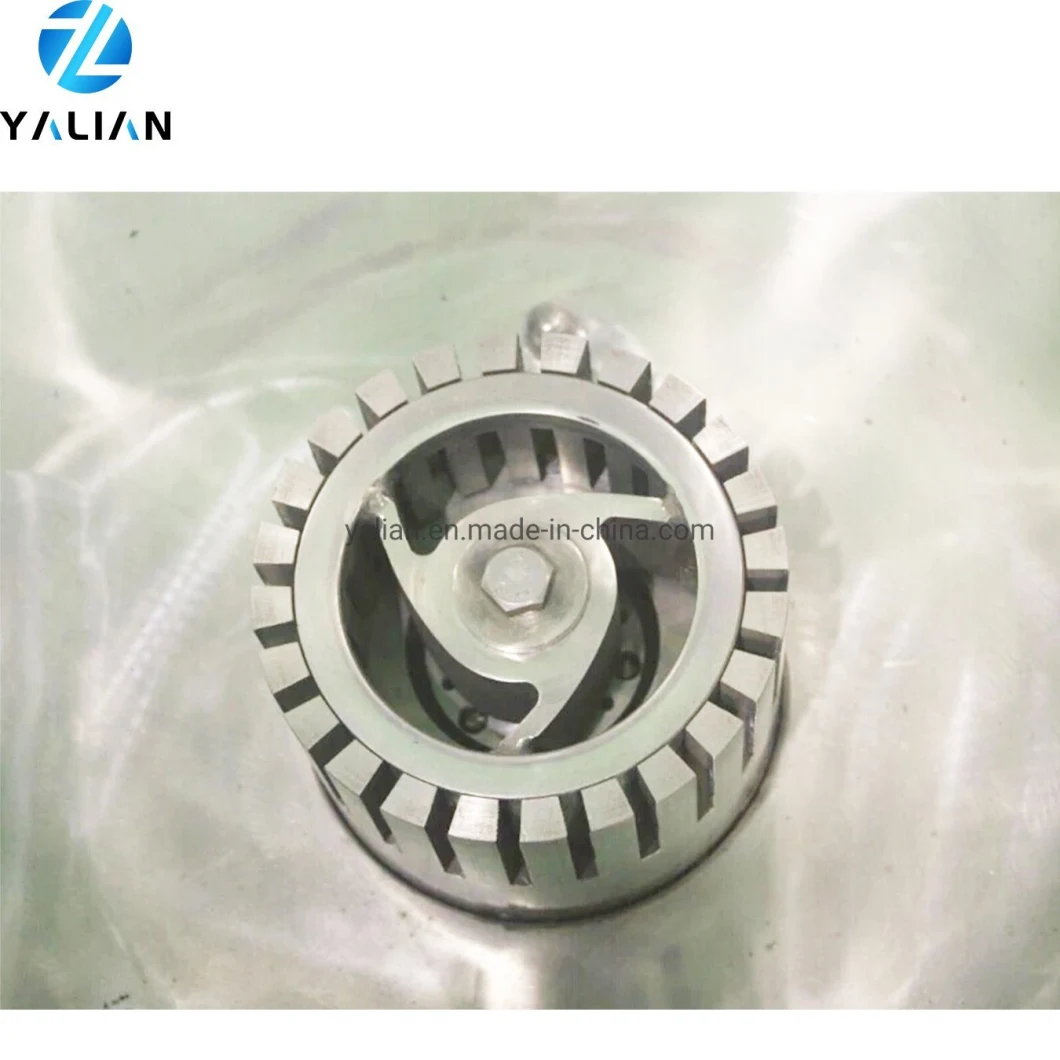 Emulsification is the process of mixing two liquids that are difficult to mix. The main purpose of emulsification is to disperse the discontinuous phase into smaller droplets. The rotor-stator device is particularly suitable for emulsification tasks. The combined action of high shearing force and high expansion force in the mixing head makes the droplets small. In addition, the large turbulence enables the rotor-stator device to help transport emulsifier molecules quickly to the reformed surface.
Lifting vacuum emulsifier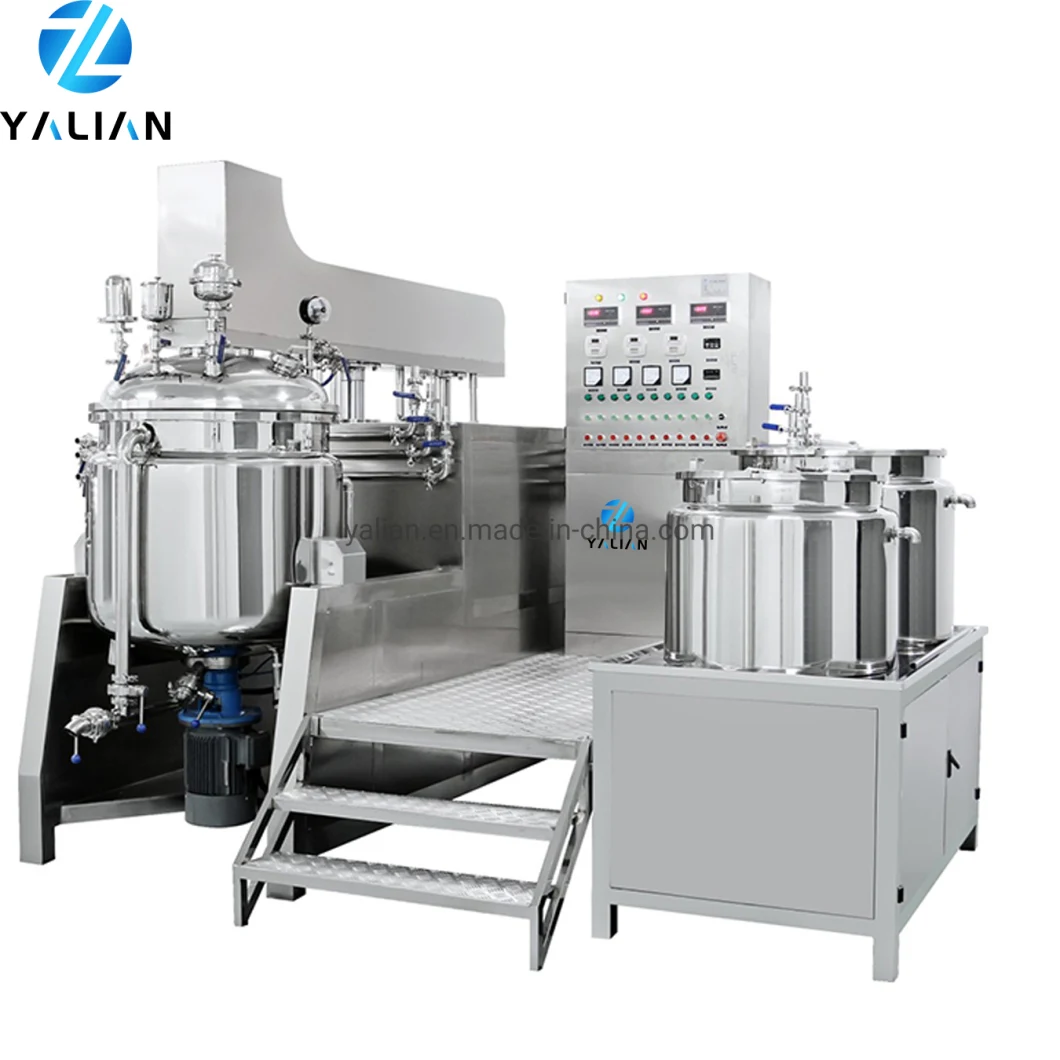 The lifting external circulation vacuum emulsifier is specially designed by Planck for the production of products with high viscosity and high emulsification requirements in the cosmetics and pharmaceutical industries. Its biggest features are:
1. The material can be continuously emulsified in circulation;
2. Emulsify materials with high viscosity more thoroughly, without dead ends;
3. The external circulation emulsifier can replace the conveying pump for discharging, and can be cyclically cleaned.
The mixing adopts forward and reverse double scraping side mixing, with high-speed external circulation emulsifying head design.
Working principle: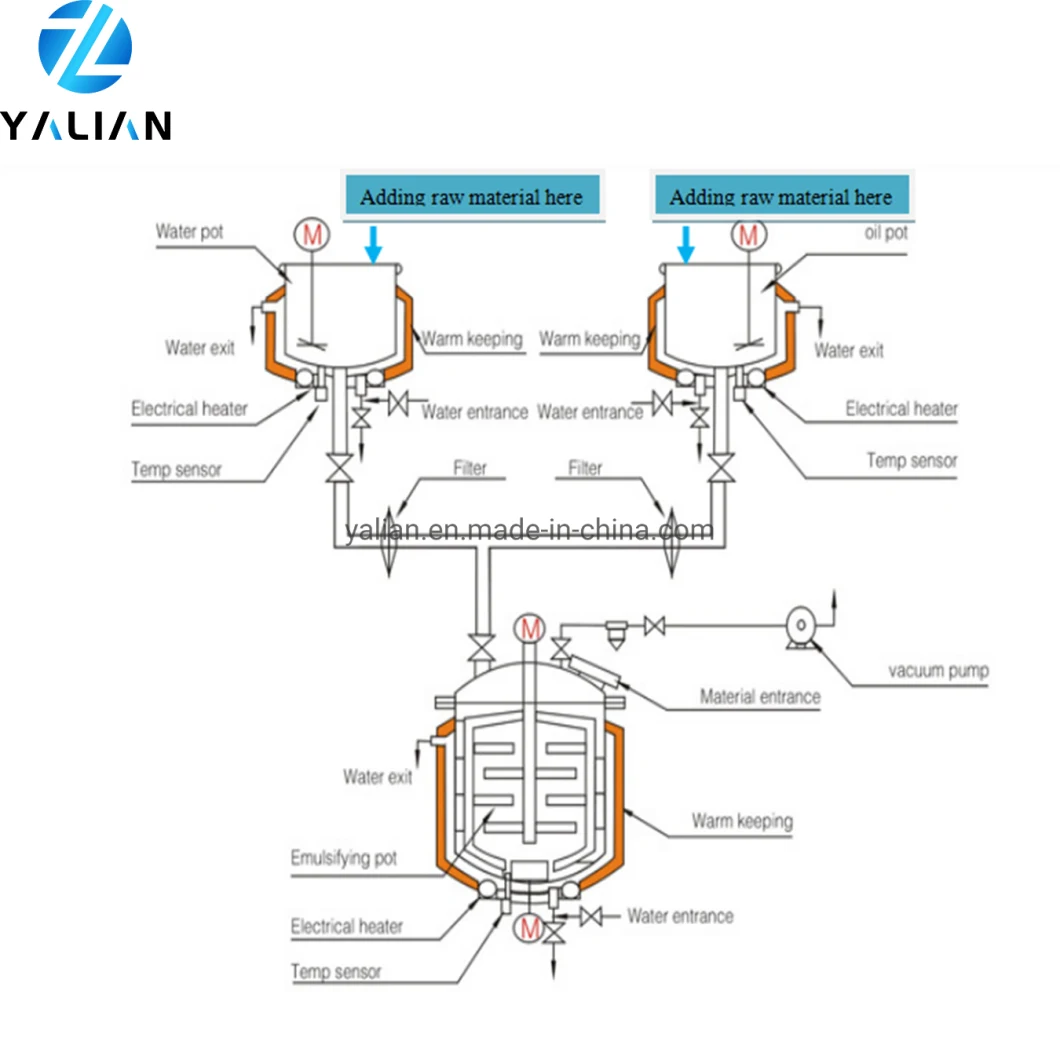 After the materials are mixed and reacted by heating and stirring in the water pot and oil pot, they are sucked into the emulsifying pot by the vacuum pump, and stirred through the center of the upper part of the emulsifying pot. , So that the captured materials continuously produce new interfaces, and then through the cutting, compression, and folding of blades and rotating blades, they are stirred and mixed and flow down to the homogenizer below the pot body, and the materials are cut by high-speed rotation During the process of strong shearing, impact, turbulence, etc. between the wheel and the fixed cutting sleeve, the material is cut in the shearing seam and quickly broken into 200nm-2um particles. Because the emulsification pot is in a vacuum state, the material is The air bubbles generated during the stirring process are drawn away in time.
Characteristic
·With hydraulic lifting system, the lid can be raised and lowered freely.
·The mixing system adopts double scraping side mixing frequency conversion speed regulation, which can meet the production requirements of different processes.
·Advanced homogenizer, unique structure, reliable sealing (mechanical seal is German Burgman), emulsification speed is 0-3500 rpm (German Siemens frequency converter)
·The material is imported SUS304 or SUS316L stainless steel, and the tank and pipes are mirror-polished, which conforms to GMP specifications.
·Vacuum defoaming can make the materials meet the sanitary and aseptic requirements, and vacuum suction can be used to prevent dust from flying for powder materials.
·According to process requirements, the tank can heat or cool materials, and the heating method can be steam or electric heating according to customer requirements.
The standard configuration
Main bowl, water tank, oil tank
Vacuum pump and synchronous solenoid valve
Emulsifier and material filter
Hydraulic lifting system and mixing system
Stainless steel operating platform
Frequency converter and electric control box
DBI recyclable homogenizer
Company introduce :
Guangzhou Yalian is a large-scale company specialized in design, manufacturing, installation and commissioning of daily chemical, chemical, food and pharmaceutical machinery, as well as water treatment equipment. With powerful technical strength, complete inspection facilities, unique and advanced technique as well as great varieties of products, the enterprise strictly implements ISO9001 standard management.

RFQ:
Q1: Are you a trading company or a manufactory?
A1: We are a manufactory, we supply the factory price with good quality, welcome to visit !
Q2: What's your guarantee or the warranty of the quality if we buy your machines?
A2: We offer you high quality machines with 1 year guarantee and supply life-long technical support.
Q3: When can I get my machine after I paid?
A3: The delivet time is based on the exact machine you confirmed.
Q4: How do you offer technical support?
A4:
1.Technical support by phone, email or MSN/Skype around the clock
2. Friendly English version manual and operation video CD disk
3. Engineer available to service machinery overseas
Q5:How do you work your after sales service?
A5:Normal machine is properly adjusted before dispatch. You will be able to use the mchines immediately. And You will be able to get free training advice towards our machine in our factory. You will also get free suggestion and consultation, technical support and service by email/fax/tel and lifetime technical support.
Q6: How about the spare parts?
A6: After we deal down all the things , we will offer you a spare parts list for your reference.
Order guide:
There are many types of filling machine,we need to know more details about your products in order that we can recommend the most suitable machine for you.Our questions as below:
1.What's your product?Please send one picture to us.
2. How many grams do you want to fill?
3.Do you have requirement of capacity?
To get more machine details pls contact Mr.Tom